Brace yourself, because Microsoft has released its latest flagship product and this is one that you will not be able to avoid for long. In its newest flavor of the Windows operating system, MS has decided to leap-frog Apple's gradual convergence with its mobile device operating systems to give you a Frankenstein operating system that is initially just plain shocking.
I don't plan on doing a comprehensive review of the software, you can find those here or here. I just want to give you my initial thoughts from the perspective of a consumer.
Since I deal with the end user primarily in this business, I decided to start my Windows 8 experience much like an average person. I didn't test it, read reviews of it, or dig deeply into it at all prior to Friday's release. I deliberately wanted to understand what you, my customer, may be going through.
I have deployed Windows 8 on a 5 year old Dell Optiplex 740 desktop computer that originally shipped with Windows Vista, was upgraded to Windows 7, and now has been upgraded to Windows 8. Not an ideal setup by any stretch of the imagination for most technical people. The common thought towards upgrades is that it's better to do a clean installation than to do an upgrade. When I upgraded this PC to Windows 7, I was thoroughly impressed by how well it performed and it continued to run much better than it ran in Vista. Upgrading again to Windows 8 netted similar results. The computer works great. Could it work better if I started from scratch? Most likely, but my interest is in mimicking what a non-technical consumer would do, not what another techie would do.
Because I upgraded a machine with 5 years of history on it, the upgrade process took a while – a little over an hour in total from purchase to seeing the desktop. After answering only a few setup questions, I was ready to start digging in.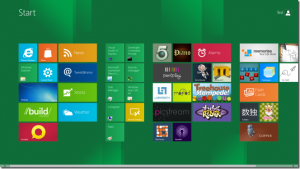 My first thought: Oh crap, a lot of my customers are going to be lost. There is no more start menu. Where are my application shortcuts? If I click on any of the default panels in the new interface, it wants me to sign in to a Microsoft account, then link other services to themselves, and then arrange them in ways that are not intuitive with a mouse. And if I click on something like the new Microsoft App Store, I can't close it. It's just there in full screen. I can open other stuff on top of it, but they never quit. I have to use the Task Manager to quit these new applications. Oh boy. I thought the operating system was called Windows, not Walls. The name of the operating system has lost all meaning with this new interface since Microsoft wants everything to work in full screen much like a cell phone or tablet. Maybe they should have renamed the operating system completely with Windows 8.
OK, well how to I navigate this thing? Luckily a Windows Explorer shortcut still exists in my task bar if I close the new Start interface by clicking on the Windows button on my keyboard. I notice that it has been re-branded to "File Explorer", but it looks similar to Windows explorer with a Microsoft Office Ribbon interface at the top. This is a good thing. I'm a fan of the Ribbon.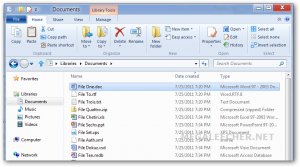 But what about just starting an application? I'm not a big fan of desktop shortcuts, so I don't have many. Where are my application shortcuts that were in the old Start Menu? Well, if you hover your mouse on the right corners of the screen with your mouse, a menu slides out. If you click on the Search icon, a full screen interface with all of my application shortcuts pops up. There it is! OK, I can handle that, and I do like using the instantaneous search function to call up applications. But the whole thing seems so counter-intuitive on a desktop PC. I found that using the keyboard shortcut of the Windows Key + F was the fastest way to get things done on Windows 8. Honestly, if you use this shortcut, you may find Windows 8 to be incredibly productive and getting things done will be faster than any other version of Windows for the average multi-tasker. That, plus the use of the Windows Key + Tab, which brings up the new application switcher, will tame the confusing new hybrid interface.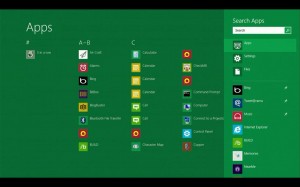 I still use Microsoft Office 2007 on this computer because I don't see a valid reason for myself to upgrade to 2010. The good news is that it works perfectly fine in Windows 8. In fact, the only applications that were flagged as incompatible were my anti-virus application and my Brother printer software (which only needed to be re-installed). This is when I had the most interesting revelation about Microsoft's new approach to security. When I went to install Microsoft Security Essentials as a replacement to my old anti-virus program, I was notified of this on the download website for Security Essentials:
Windows Defender for Windows 8 and Windows RT provides the same level of protection against malware as Microsoft Security Essentials. You can't use Microsoft Security Essentials with Windows 8, but you don't need to — Windows Defender is already included and ready to go. But if you're looking to protect a PC with an older version of Windows, you can use Microsoft Security Essentials to help guard against viruses, spyware, and other malicious software. It provides free* real-time protection for your home or small business PCs.
So, as I understand this, I don't need to install anti-virus software on Windows 8. At all. This is a huge deal. I've been a big fan of Security Essentials and if what they're saying is true this is a huge win for consumers. Most average people don't even know that Microsoft offers a fantastic and free anti-virus solution on Windows XP, Vista, & 7. Now it's there right out of the box. Does this mean that PC vendors will abandon packaging terrible free trials of security software on PCs? Probably not, but at least when those trials run out, and the average person perpetually neglects to renew or replace it, Windows will still be secured to a certain degree by default.
Another positive change is that Internet Explorer 10 has the Do Not Track setting turned on by default. This pisses off internet marketers, but is a win for privacy. Also, much like Google Chrome, Internet Explorer updates and patches itself automatically without asking, which is a good thing. I'm still sticking with Chrome, but I know so many people still reluctantly use Internet Explorer. Microsoft is taking the browser wars seriously since the playing field has changed so drastically in relatively short period of time. Now they're in competition with not only Chrome & Firefox, but mobile device browsers as well.
Overall, I do feel l like Microsoft has put a brand new facade over the already spectacular Windows 7. Finding things and getting things done using the previous philosophy of finding an icon and clicking on it will be maddening to most. Searching with the Windows Key + F method will redefine how many people use Windows on a traditional desktop or laptop PC. But underneath that, your old programs, printers, scanners, and such will work as they did before. I have yet to use the new Windows on a touch screen interface, and I imagine it will be a very different animal in that iteration. Will this marriage of old and new work, or will it go the way of Microsoft Bob? I would imagine that since Apple has been slowly migrating to a touch interface for it's desktop operating system even though there are no touch screen enabled Macs yet, that this is going to stick around. It will be a rough start for Microsoft, who I feel have made a risky leap forward, but soon the traditional PC is going to fade from popular usage and Windows 8 may be the training wheels that get the masses there.